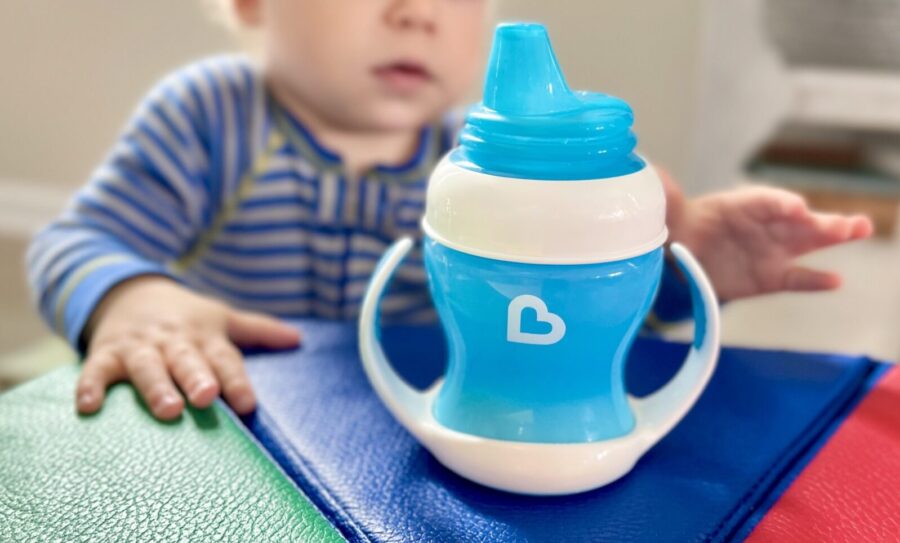 If you're transitioning your child from nursing and/or bottle feeding, you're likely looking at using a sippy cup. These cups are easy for your little one to hold onto and they also help prevent messes. They are a good way to slowly get your child more comfortable with drinking on their own until they can handle an open cup. However, we recommend helping them move from a sippy cup to an open cup, 360-degree cup, or straw by age 2-3 to prevent negative effects on your child's dental health.
Development Changes From Prolonged Use of a Sippy Cup
The kind of cup or vessel your child drinks from can affect how they swallow and how their teeth and palate develop. Because of their design, sippy cups and their spout prevent ideal tongue position while swallowing. With a sippy cup, the tongue is moved underneath the spout. But to swallow properly, the tongue should rise to the roof of the mouth instead of pushing forward into the teeth.
A tongue thrust, which is normal for infants, can cause problems for a child as they grow. The force of the tongue pushing into the front teeth can lead to facial and speech development issues, malformation of the hard palate, mouth breathing, chapped lips, an open bite, and crooked teeth.
You can help your child avoid a tongue thrust by weaning them from a sippy cup before it becomes a problem. You may have to clean up a few more spills now and then, but preventing prolonged sippy cup use will be better for your child as they grow.
Consult with Our Team!
Would you like more pediatric dental tips? Or do you have specific questions about the development of your child's dental health? Contact us at Austin Pearls Pediatric Dentistry in Austin! Our child-friendly practice offers comprehensive pediatric dentistry for children of all ages. We would be delighted to hear from you!