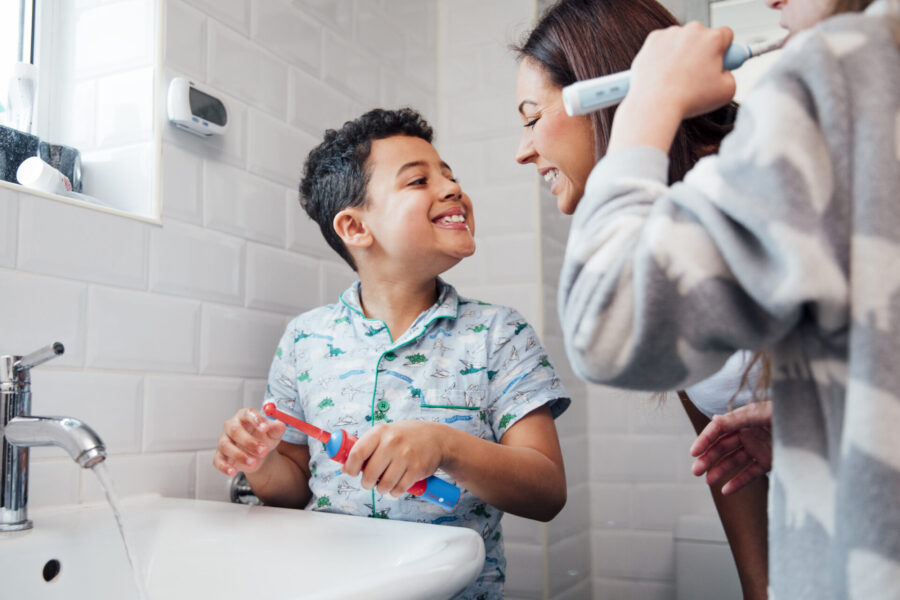 Children's smiles are precious pearls and they need to be protected from a young age! One of the best things to do is to help your child form good dental habits early on so that their habits are more likely to carry into adulthood. Here are some tips to help your child form good oral health habits:
Make Teeth Brushing Fun
We understand that it can be difficult getting kids excited about brushing their teeth twice a day, especially since each brushing session is two minutes. We recommend making a game out of brushing teeth to tackle the "tooth monsters" or "sugar bugs", or utilizing an electric toothbrush and a kids' app to make brushing more exciting. You could also engage your kids in brushing by letting them choose their toothpaste flavor, playing music as they brush, and creating a rewards system with stickers and prizes.
Consume Sugar in Moderation
Diet hugely affects oral health. Does your child have a sweet tooth for candy, cookies, donuts, chips, juice, and other sugary snacks? Try encouraging fresh fruit, string cheese and cheese cubes, low-sugar yogurt, milk, water, and other healthful snack foods whenever possible. We don't recommend cutting all treats out. Offer them in moderation so you child learns how to regulate their intake and enjoy a balanced diet. When your child does have a sugary treat, encourage them to drink plenty of water after to help wash away the lingering food particles.
Choose a Comfortable Dental Home
Children and adults should visit the dentist at least twice a year for routine dental checkups and cleanings. Many adults suffer from dental anxiety and fear which causes them to push off dental appointments. If you find a comfortable dental home for your child and take them twice a year, they are more likely to feel relaxed and calm when going to the dentist into adulthood.
At Austin Pearls Pediatric Dentistry, we are passionate about helping kids of all ages. Our friendly, experienced team will do everything we can to help your child have a positive experience at our office and feel comfortable and safe. Please contact us today to schedule your child's visit!